Your Corpuls 3 is printing on one side of the paper only? It could be that the print cartridge has been installed incorrectly.
Are you having issues with your corpuls 3 print outs? Do the below symptoms sound familiar;
Only printing on one side (see figure 1)
Bottom/ top half of ECG not printing
Printer not working
Some Obs missing from print out
Printing faint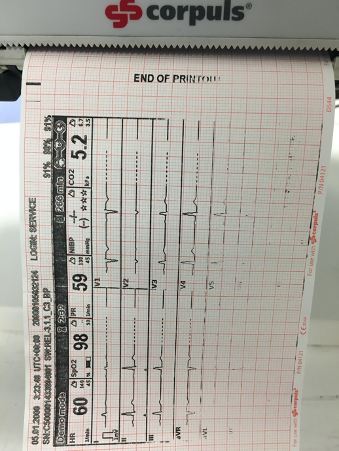 Figure 1: Incomplete printout. The bottom half of D-ECG is missing
The most common cause for an incomplete printout is due to incorrect closing of the paper tray, see Figure 2 (the right-hand side of the printer tray is more depressed than the left).

Figure 2: Paper tray not fully closed on the right-hand side
Confirm the printing issue by pressing the print soft key for 4 seconds- This will result in a "print screen"
If the device fails to print completely report it here
If the printout is fully legible (Figure 3) the device can be returned to use
If the printout is incomplete (Figure 1) continue to follow this guide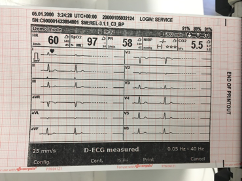 Figure 3: Test screen shot passed
If the printout is incomplete, fully release the paper tray using the black release handle (Figure 4).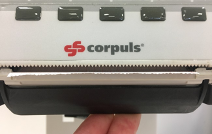 Figure 4: Paper tray with release handle open
Close the draw/ tray, using the release handle, making sure it slides in evenly.
Ensure the tray is fully closed, with a small equal gap to the main body of the device (Figure 5).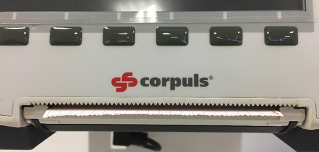 Once the print cartridge has been installed correctly, press and hold the print key for 4 seconds. This will result in a printout which will help determine if the issue has been resolved
If the printout is fully legible the device can be returned to use (Figure 6)
If the printout is incomplete, further work is required, so please report it here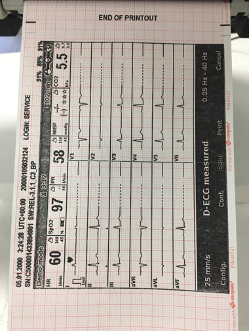 Figure 6: Test printout passed